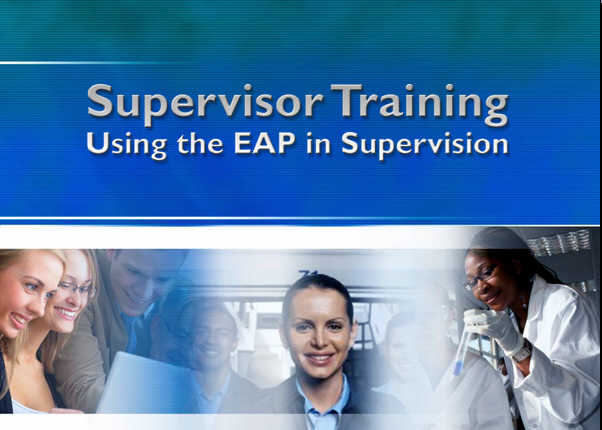 Important: Computer speakers required. Sound starts in 4 seconds. Refresh screen
if you hear no sound. Scroll to bottom to begin after introduction.
Welcome to Supervisor Training: Using the EAP in Supervision. When you started this course, you should have been prompted to enter your name or other identifying information into a text box that popped up on the screen. This allows your name to be automatically placed on a certificate of completion that you will view and print at the end of the course. If you did not receive this prompt, click the red "Go to End or Restart" link shown at the upper left of the screen. Follow the instructions provided, and exit the course completely. Restart the course, and the text box will appear.
This course will teach you how employee assistance programs work, the steps in making a supervisor referral, and how to avoid common pitfalls when managing troubled employees. The course will include a flash movie that starts on the next page. It will run for about 27 minutes. Test questions will take about ten minutes for you to complete. So you need about 40 minutes to complete this course.
Use the blue forward and backward arrow buttons at the top and bottom of the pages to navigate the course. At the end of the course print your certificate of completion, or if you do not have a printer, copy the information with your mouse and paste it to an email or text document so you can save it or record the results. Contact your employee assistance professional if you have any questions about the EAP after completing the course. Also, be sure to read your organization's EAP policy so you understand your responsibility and role in the program's success. Remember, top management has endorsed your EAP and expects you to support it. Enjoy the course and reap the benefits EAPs promise organizations and their employees.
Click to advance program.

Next
Speakers and sound capability are required for this course.

Copyright © 2007 by DFA Publishing and Consulting, LLC -- 27 min. plus Q/A. All rights reserved